Hook it up to your grow tent.
The OG Dry Tent is designed to work with your grow tent's fan and filter. Use the included air duct hose to connect the dry tent to one of your grow tent's circular bottom cord vents and turn your exhaust fan up high. The Bud Chandelier will rotate as it dries your harvest perfectly.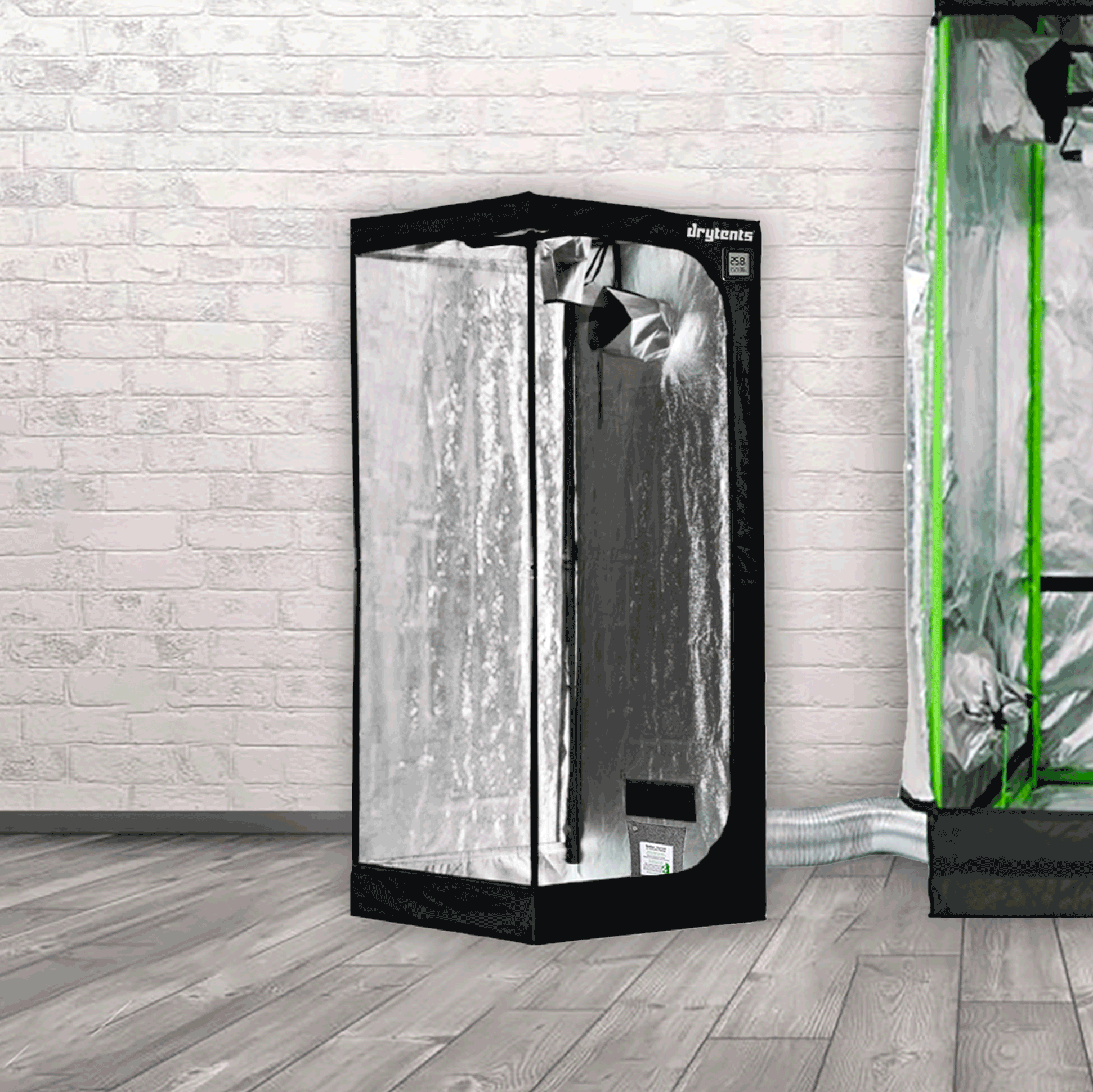 Hang your trimmed buds by the stem.
Everyone knows hanging your buds out to dry is best. Just a quick and easy trim then clip them to the Bud Chandelier!
You can use all 3 included chandeliers as shown or choose to use only 1 or 2 for larger trimmings or even full plant harvests. It's up to you!
Monitor levels for
6-14 days then cure!
The ideal temperature for a drying room is between 65°–75° Fahrenheit and humidity between 45%–55% in a dark room with airflow. Within 6–14 days your branches should snap instead of bending and the buds should feel slightly crisp and dry on the outside. Ready to cure!
The OG Dry Tent is the first of its kind! Designed & optimized for the crucial drying stage, now you can dry your buds in a sealed, smell-proof, light-blocking, dedicated space.
​
The innovative rotating 'Bud Chandelier' ensures all your buds have good airflow no matter where they are. This constant movement helps to prevent mold or mildew from stagnant air. With 24 clips build into each chandelier (72 total), there's plenty of space for small-medium harvests and it's quick easy to chop your crop, clip and hang to dry.
​
With The OG Dry Tent, you don't need to spend any extra money on fans/ ventilation or filters. Instead, hook it right up to your grow tent, which already has those. Set your grow tent exhaust up to high and the suction will draw a gentle breeze through the tent, keeping air flowing without drying out your buds too quickly.
No need for another fan and filter - just hook it up to your grow tent!